Friday, June 10, 2005
U.S. scientists Say They Break Rules
Jun 9, 2005
BLOOMINGTON, MN, United States (UPI) -- Minnesota researchers found one in three U.S. scientists admitted in an anonymous survey they committed scientific misconduct in the previous three years.
The survey, conducted by
HealthPartners Research Foundation
, found
33 percent
of scientists admitted breaking rules that are supposed to ensure the honesty of their work, the authors report in the
British journal Nature
.
The misbehaviors range from claiming credit for someone else`s work to changing study results due to pressure from a sponsor, reported the Minneapolis Star Tribune.
"Our findings suggest that U.S. scientists engage in a range of behaviors extending far beyond
falsification, fabrication and plagiarism that can damage the integrity of science," the authors
write in a commentary in the journal, which is released Wednesday.
Copyright 2005 by United Press International
"Thay Call This Science? #2"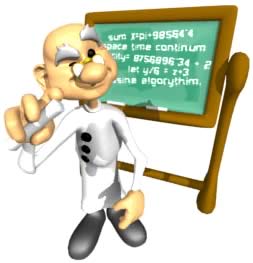 |